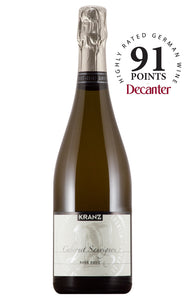 Kranz Cabernet Sauvignon Rosé Brut
"A charming traditional method sparkling rosé made using run-off juice of Cabernet Sauvignon and a dash of barrique-aged reserve wine. A perfumed nose of red cherry, red apple, rose petals and a touch of toast. Refreshing and saline on the palate, high in acidity with gentle mousse. Raspberry and grapefruit with yeasty texture and a moreish finish."
Sylvia Wu @ Decanter | 91 of 100 points

"I was smitten with this sparking rosé made from 100% Cabernet Sauvignon. I wanted to dash off and buy their entire production of 1,500 bottles. A Cabernet vineyard planted in the wrong place, the vines struggling to ripen, has resulted in one of the most scrumptious and unusual sparking pinks I have ever tasted. Furthermore, we are not talking about a simple Sekt. This is a really complex, structured wine.
Certified organic. They pented Cabernet 20 years ago, but it's a cool site and doesn't ripe well. Made by the traditional method and spends 18 moths sur lattes.
Gosh, this IS good! Sappy and juicy, and packed with sour cherries, blood orange, raspberry. But there is also a long line of graphite running through the wine, and a peppery molle-leaf bite. So vibrant, brilliant tension. Mouth-watering finish. What a revelation! Quite unique. This wine really stole my heart."
Tamlyn Currin @ Jancis Robinson | 17 of 20 points


"Effusive red berry aromas, yet well structured thanks to the healthy acidity, this is a very refreshing, properly dry sparkling rosé. Long, clean red current and lemon finish."
James Suckling | 91 of 100 points

Kranz's Rosé Brut has aromas of fresh fruit, with hints of red berry and green pepper. On the palate, this sparkling wine has elegant perlage and an impressive finish.
A revolutionary idea to make sparkling wine from Cabernet Sauvignon grapes, Kranz's cooler vineyard site is perfect for growing this type of grape.
Following the example of the Champagne region, Kranz they press the grapes extremely gently and only use the "core" - the cuveé - to make sparking wine. The run-off and the tannin-rich taille are not used.

To give the sparkling wine more complexity, Kranz have built up a deposit of reserve wines in barriques (French oak barrels) over the past few years, which they use to make the blend.

Since the end of 2021, Kranz have been producing their sparkling wines by hand in their own winery. This wine is evidence that their extra manual effort pays off.
Food recommendation: Pairs perfectly with terrines, quiche and grilled prawns.
Alcohol: 12,5% vol.
Res. sugar: 4,0 g/l