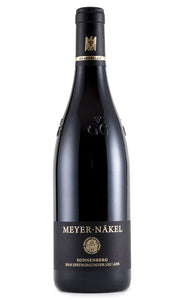 Meyer-Näkel 2018 Sonneberg Spätburgunder Grand Cru dry
VPD. GROSSE LAGE distinguishes the highest quality German vineyard. the best wines with a complex taste, expressive character and special ageing potential mature here. The VDP region associations take great care of the locations determined and delimited to the exact parcel.
Dry wines from VDP.GROSSER LAGE are called VDP.GROSSES GEWÄCHS.
Vineyard: The name Sonneberg speak for itself. 95% are steep slopes, ideally facing south towards the dun and offering the best conditions for Pinot Noir. Due to its southern orientation and favourable slope, the Sonnenberg is Bad Neuenahr, located at 100-150m above sea level, is one of the preferred locations that benefit from high solar radiation and a favourable microclimate. The soil is a skelett-rich conglomerate of greywacke to greywacke slate mixed with loam proportions through hanging loam to loess and loess loam. One almost 5 meters high. The demolition edge in the lower area of the layer clearly shows the type of soil. Scientific studies have shown this to be the warmest place in the entire Ahr valley. The predominant grape variety Pinot Noir results in massive, voluminous wines that retain a fruity, elegant character due to the stone content of the soil.
Vinification: Old vines, sustainable vineyard work, consistent yield reduction and careful handpicking form the basis for this wine. The yield is around 30hl/ha. The grapes are gently transported to the winery in small boxes, spontaneous fermentation, 20 days maceration time on the mash, ageing in barriques (70% new wood content) on the fine yeast for 18 months, then 6 months in bottle storage. Unfiltered bottling.
Wine: Complex wine with early, herbal and pronounced fruity aromas. Dark and red berries, a little cherry with pepper and malt combine with a fine acidity and clear minerality to form a full-bodied wine. A Pinot Noir with fine tannins, good substance, persistence on the palate and juicy mineral finish.
Sustainability:
Meyer-Näkel are a certified member of
FAIR'N GREEN
. FAIR'N GREEN is a recognised system for sustainable viticulture in Germany, covering areas of environmental protection and social responsibility. Wineries that are certified members uphold the highest standards in sustainable practice, working in harmony with nature. They are rigorously audited every year to ensure these standards are upheld.
Alcohol: 13,5% vol.
Res.sugar: 0,3 g/l
Acidity: 5,4 g/l